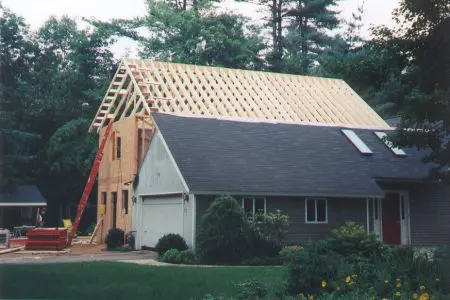 Adding space to your home at the second or even third story can capture views, maximize square footage on a small lot and let you locate all the bedrooms on a single level. However, all that space can come at a high cost. A second story can greatly impact the rest of your home, which often means structural reinforcement on other levels.
Is building up, digging down or adding on the best way to maximize your house's potential? Here's what to consider before adding another story to your home.
Whole-house impact. The design and function of a second-story addition will have a ripple effect on the rest of your home — everything from finishes to mechanical work to structural work. A good design will make the second story look like it was always intended, so take the necessary time to make sure the addition does a favor for your curb appeal and your home's functionality.
Structural requirements. A second story with occupied rooms will weigh much more than your old roof system, so engineers will need to calculate how much weight the main-floor walls and foundation will carry and how to hold that weight up. Second stories require structural support that includes adding plywood and steel connections at main-level walls and down into the foundation to meet code requirements. This is particularly important in areas with seismic risk and with older homes.
Stairs. A new staircase usually means taking a bite out of your existing main-floor rooms, which can impact the use of those rooms and the traffic flow. Sometimes it's a no-brainer, like over existing ones going to the basement. But sometimes a little creative thinking is required. Working with a good architect to thoroughly examine all of the options for stair location will yield the best results.
Mechanical. Your furnace, water heater and electrical panel all work based on your home's square footage and the number of fixtures you have. When you increase the size of your home, you have to revisit all of these systems.
Electrical panels are typically upgraded to 200 amps, and HVAC systems can be replaced, added on to or have new zones added, depending on whether they are forced-air or radiant systems. Hot water can be delivered in a number of ways — from tankless heaters with recirculating pumps to tank systems and separate on-demand systems just for a master bathroom. You could consider adding an energy-efficient system too, such as ductless heat pumps, geothermal heat pumps and solar-assisted hot water or photovoltaic panels.
Chimneys. When you add a story to your home and have a masonry chimney, you need to eliminate the chimney or build it up (with brick or a metal flue) to above the roof level. This can be a simple decision, particularly if you never use your fireplace or want to convert to a natural gas fireplace.
It's also possible to save a wood-burning fireplace and remove a separate mechanical chimney by replacing older equipment with new energy-efficient units that can vent horizontally (instead of vertically). The space that a mechanical chimney took up can also become a convenient chase for ductwork, plumbing or electrical to run to the second floor.
Windows, doors and siding. The key elements of the building envelope become big question marks with second-story additions: Should you match them? Start over? Do half and half? If structural work at the main level requires removing half of the siding, you may wonder whether or not the whole house should have new siding. If main-floor windows and doors are tired, rotting, don't meet energy code or are simply out of style, should they all be replaced?
Making these decisions early in the process is key. Going back to order windows for half a house when the project is already started is sure to cause delays.
Insulation. When engineering requires old siding and sheathing to be removed from your home's exterior, it also presents the chance to install new insulation. Homes built in the 1950s or earlier tend to not have insulation in their walls (aside from the occasional newspaper). Installing fiberglass batts or even rigid insulation in the studs is a great way to improve the energy efficiency of your whole home.
Finishes. Often the finishes of your existing home — door style, trim sizing, Sheetrock finish, flooring — can dictate the finishes in your addition. But adding a new story allows you to revisit every finish. If you have textured walls, for instance, you may decide to go with smooth walls in the whole house or just in the addition.
Roofing. Part of the demolition process for second-story additions is removing the entire roof system. A contractor experienced with these kinds of remodels will have protection systems to keep rain out, but it won't be feasible to live with them.
A project of this size nearly always requires vacating your home for the duration. But you'll get to move back into a home that's doubled in size and is 100 percent ready.
This article was originally published at Houzz.com.