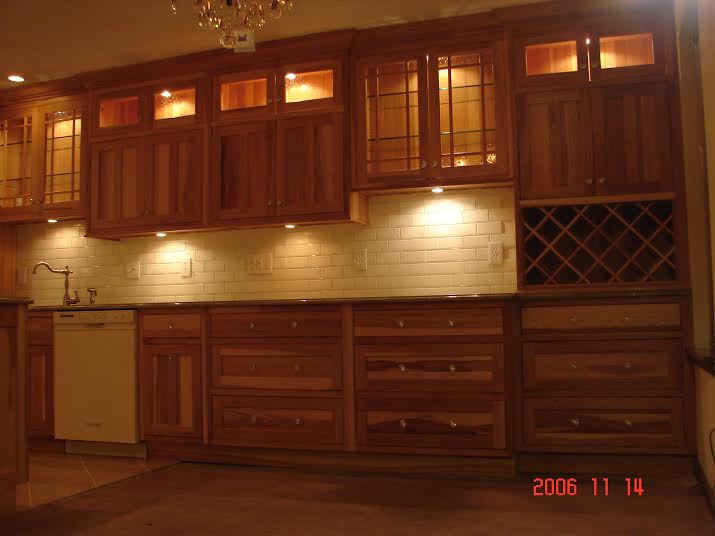 What can we say about glass-fronted cabinets? Lots, actually. There's frosted, seeded, reeded and stained glass. There are mullion, arched and sliding glass doors. And let's not forget multisided glass cabinets. No matter what style of glass you use or where you insert it, these windows into your lifestyle make cooking and socializing all the more personal. Here's an in-depth look at common types of glass and the many ways you can incorporate them into your kitchen design.
Styles
1. Clear glass. This clean style offers a view straight into the heart of your cabinetry, a sight that can make you and your guests feel right at home in your kitchen. Clear glass lets you show off your tip-top organization skills or your prized collection of family heirlooms.
In white and gray kitchens, clear glass is an avenue to add color with vibrant dishware. That said, it shouldn't be your first choice if you have a knack for cluttered cabinets.
2. Frosted glass. This style is a staple in contemporary and modern designs. The frosted effect is created when clear glass is sandblasted; the resulting rough surface scatters light, producing a translucent, blurred look, similar to a matte finish. Frosted glass allows a sneak peek into the inside of your cabinetry but conceals most of the details. In other words, you can get away with having a dish or three out of place.
3. Reeded glass. This design is formed when a roller is applied to a glass surface. It has a shutter-like appearance with lines imprinted in the glass. As with frosted glass, the view into your cabinetry is obscured. Reeded glass can work in both contemporary and traditional spaces, depending on the design.
4. Seeded glass. This type of glass has a bubbly, handblown appearance that forms when gas becomes trapped in its surface. Its artisan look is a natural fit in Craftsman and custom kitchen designs.
Seeded glass can also add a nice touch to rustic cabinet finishes. It's almost as if the uppers in this contemporary kitchen were handcrafted centuries ago.
5. Stained glass. Technically, it isn't stained. Rather, this type of glass is made through a process of cutting, painting and glazing. Either way, the streaks of reds, golds, blues and greens in geometric formations can bring a taste of Art Deco to your kitchen.
6. Mullion fronts. Mullions divide two units of glass, creating a window pane effect. They can be a nod to tradition or life on the farm (or, in this kitchen's case, coastal living).
7. Diamond-paneled glass. This designer style is all about subtlety. Use diamond-paneled glass as an alternative to color and texture if you're looking for a way to add dimension to your cabinets.
8. Arched fronts. They're a detail worth including in traditional kitchens that have intricate decorative schemes. Arched fronts can also provide good contrast to rectangular fronts when your kitchen features mixed door styles,
9. Sliding glass. This minimalist, deconstructed approach to glass doors is a prime example of how to nail visual intrigue and functionality all at once.
Locations
1. Upper cabinets. Take open concept to the next level by including glass doors on each of your uppers.
2. Cabinets above uppers. If you have two rows of uppers, install glass across the top row to insert a visual break into the expanse of cabinetry.
Don't forget to add lights to enhance the display and ensure that guests get a clear picture of your decor.
3. Cabinets next to a special feature. Glass doors can draw the eye to a window with a view, a stunning farmhouse sink or a glam backsplash above your range.
4. Islands. You can put glass doors on base cabinets as well, and there isn't a better place than the hub of the kitchen. They make this favorite gathering spot even more inviting.
5. Corner cabinets. Adorn a diagonal upper cabinet with designer glass for an unexpected but well-placed accent piece.
6. Suspended from the ceiling. This glass house effect is only for homeowners with impeccable storage habits.
7. Over the entryway. Mark the entrance to your kitchen with two-sided glass cabinets to make a good first impression and set the tone for lighthearted cooking and socializing.
8. Tall cabinets. A towering all-glass unit can showcase your neat and clean style in open-concept contemporary and modern designs.
This article was originally posted at Houzz.com.